Contact Lenses: Frequently Asked Questions
Can I swim with contact lenses?
In general, swimming in contact lenses should be avoided to prevent eye infections. Water from taps, swimming pools, oceans, showers and lakes contain viruses and bacteria that can attach to contact lenses and cause serious eye infections.
We recommend having a pair of prescription goggles for the occasions where you need to go swimming. Alternatively, you can wear a pair of goggles over the contact lenses and ensure it is fully sealed so water does not enter the goggles. If you need to swim with contact lenses, we recommend you to use of daily disposable lenses and throw them away immediately after swimming.
Please contact us on 33453383 for more detailed information on swimming with contact lenses.
Can I sleep in my contact lenses?
Only extended wear contact lenses are approved for sleeping in. This is dependent on the oxygen transmission of the contact lenses.
Please contact us on 33453383 for a consultation if this is something you are interested in.
Will contact lenses get stuck behind or on my eye?
No. Contact lenses will not get stuck behind your eye as there are structures inside your eye that prevents any object from moving to the back of your eye. However, it is possible for the contact lens to dislocate to areas under your eyelid. During our fitting and training appointment, we will demonstrate to you how to slide the lens back to the centre.
What do I do if I cannot remove the contact lenses easily?
When the contact lens dries out, it tends to become tighter on the eye and you might find that it becomes challenging to remove the lens. This can happen when you wear the lenses for too long, fall asleep in the lenses or swim with the lenses.
If this happens, try putting a few drops of contact lens compatible eye drops in your eyes to re-wet the lenses before attempting to remove them.
Why do I need to replace my lenses regularly?
Contact lenses are made of a porous material which allows your eyes to breathe. Dust, debris, proteins and bacteria can build up and clog these pores over time, which means your eyes are not getting enough oxygen. There's also increased risk of eye infection and your eyes becoming intolerant to contact lenses. Not replacing contact lenses as indicated can also cause blockages in your tear ducts and dry eye.
Can wearing contact lenses damage my eyes?
Yes, however a lot of care is put in to make sure that your eyes are not damaged.
The cornea is the only surface on the body that receives oxygen from the air and tears rather than from the blood. Therefore, it is extremely important that the contact lenses are made of oxygen-permeable material and are fitted perfectly. When the lenses are fitted too tight or loose, the cornea may get scratched or have poor flow of tears underneath the contact lens, causing redness and dehydration. Dehydration of the cornea is critical as it can compromise protection from infection and cause blood vessels to grow onto your cornea which can leave behind permanent scars.
This is why it is important to attend regular reviews with your optometrist when wearing contact lenses.
How often should I return for reviews?
It depends on the type of contact lenses you wear and the overall health of your eyes. Your optometrist will tell you exactly how often you should have regular reviews, as they want to make sure your contact lenses are still suitable and are not damaging the health of your eyes. If you wear contact lenses, you should visit your optometrist at least once a year.
Can my private health fund contribute towards contact lenses?
Yes. You can use optical extras to subsidise the cost of your contact lenses, provided you haven't already used it up for the year. You can claim in-store or online.
If you'd like more information, call us on 3345 3383 or check your cover with your health fund.
Can the contact lenses be delivered to my home?
Yes. If you would like your contact lenses to be delivered to your home, please indicate this when you order the contact lenses, and the friendly staff will advise you of any delivery costs.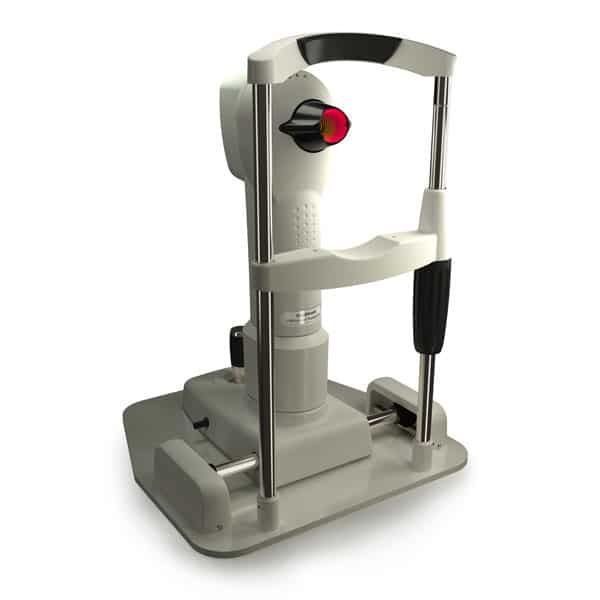 Equipment Spotlight:
Corneal Topographer
A corneal topographer is a non-invasive instrument which maps the curvature of the cornea and outer-part of the eye. Corneal topography is essential in allowing optometrists to fit custom contact lenses.
It is also used to diagnose eye conditions such as keratoconus, Terrien's marginal degeneration, or monitor pterygium.
For more on our range of technology and equipment, click here!