Our Team
Based in Brisbane. Established in 2002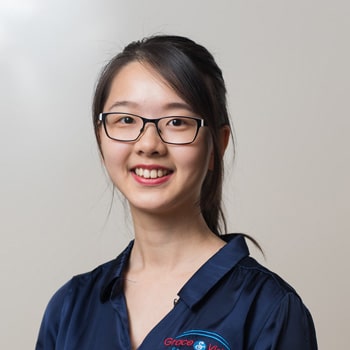 Tina Hung | Optometrist
Worked in the Optometry field for 3 years, prior to joining Lucy's team as an Optometrist in 2019
Offers discounted consultations on Tuesday and Wednesday. Conditions apply, please call 3345 3383 for more information.
Graduated BVisSc/MOptom with Distinctions 
Licensed in Ocular Therapeutics
Member of Australia Optometry Association (AOA) 
Executive member of Queensland Optometry Student Society (QOSS) of 2018 
Co-author of optometric study published in BMC Women's Health: "Associations between the menstrual cycle, lifestyle factors and clinical assessment of the ocular surface: a prospective observational study."
Organiser of QOSS Optometry Ball 2018 
Special interest in dry eye therapies and myopia control strategies.
Envisions exploring different parts of the world. 
She also spends her spare time helping out with the family floral business
Loves participating in event planning and solving puzzles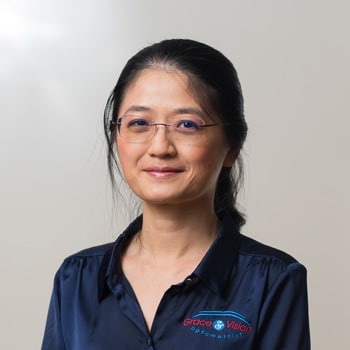 Lucy Hsieh | Optometrist
Founder of Grace & Vision Optometrist
Graduated BAppSci (Optom QUT) in 1999
Established her own practice in Brisbane in 2002
Member of Australia Optometry Association (AOA)
Member of Australasian College of Behavioural Optometrists (ACBO)
Member of Oceania Orthokeratology Society
Translated the Orthokeratology manual from English to Chinese Mandarin
Tutor at the QUT Contact Lens clinic, 2002-2004
Completed UNSW Behavioural Optometry, 2004
Post Grad. Contact Lens Study in UNSW, 2004
Post Grad. Ocular Therapeutics, 2012
Post Grad. Art & Science of Optometric Care – A Behavioural Perspective, 2015
Post Grad. Vision Therapy for Visual Dysfunction, 2014
Post Grad. Vision Therapy for Learning Related Vision Problems, 2015
Post Grad. Vision Therapy for Strabismus & Amblyopia, 2016
Post Grad. Advanced Seminar on Visual Performance, 2018
Passionate about myopia control and children's vision
Loves spending time with her family, playing and teaching her two boys
Special acknowledgements
John Mountford for allowing Lucy to sit in with him once a week for 1 year to learn about all types of patients and mentoring her on contact lenses and Orthokeratology. John selflessly dedicated his time to help patients that others could not, and inspired Lucy to never stop learning. John is a big role model for Lucy, and she would not be the optometrist she is today without his influence
Don Noack for teaching Lucy so much about Orthokeratology, and for entrusting all his patients to her before retiring (including Lucy's husband!)
Stan Isaac (practicing optometrist in Singapore) for allowing Lucy to sit in with his many Orthokeratology patients
All these people selflessly gave their time and imparted their knowledge and wisdom. What they gave was priceless and Lucy will be forever grateful. Their contributions to her role as an optometrist have inspired her to pass on what she can to future generations of optometrists.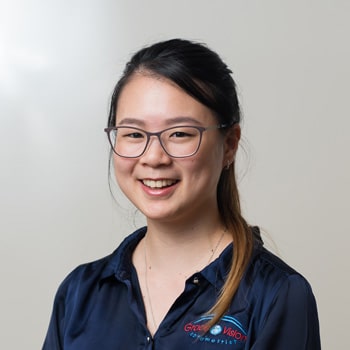 Stephanie Hsu | 
Vision Therapist/Optical Dispenser
ACBO Accredited Vision Therapist
Joined the Grace & Vision team in 2014
Post Grad. Vision Therapy for Visual Dysfunction, 2016
Post Grad. Vision Therapy for Learning Related Vision Problems, 2016
Post Grad. Vision Therapy for Strabismus & Amblyopia, 2018
Post Grad. Advanced Seminar on Visual Performance, 2018
Loves working with children and seeing the difference Vision Therapy makes to their lives!
Bachelor in Food science and Nutrition, and Masters of Dietetics Studies, 2014
Spends her spare time dancing, performing, and finding delicious food
Katrina Lacy | 
Optical Dispenser
Optometrist in training at QUT.
Joined the Grace & Vision team in 2017.
Graduated BVisSc with Distinction.
Executive member of Queensland Optometry Student Society (QOSS) of 2019.
Works alongside Optometry Giving Sight with QOSS to raise donations and awareness for preventable blindness in developing countries.
Will graduate as a full-time Optometrist in 2020.
Passionate about learning how to help others live a healthier and more positive lifestyle.
Enjoys quality time with friends, music, ukulele, dancing and cuddling cats.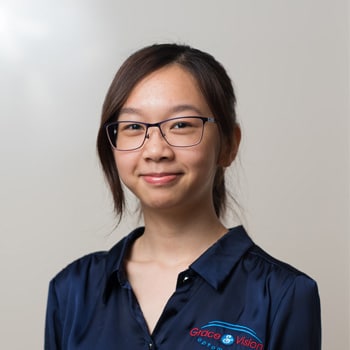 Lisa Yang | 
Optical Dispenser
Joined the Grace & Vision team in 2017
Enjoys meeting new people and volunteering 
Bachelor of Nutrition and Dietetics, 2017
Also an Accredited Practicing Dietitian
Spends her spare time watching TV shows, listening to music and finding new recipes to cook.
2 Nursery Avenue
Runcorn, QLD 4113