Just like finding the perfect pair of jeans, choosing the most flattering frame for your face shape can seriously enhance your appearance. Welcome in store to try on our full range of frames and styles!
Oval
Oval faces are considered the easiest shape to find frames due to well-balanced proportions, a narrow forehead and chin, with high cheekbones. The goal is to keep the face in balance with a frame that keeps in proportion with the face.
Choose frames that are as wide or wider than the broadest part of your face. Don't go for frame with low temples, which will unbalance your face.
Who has it: Beyonce, Jessica Alba, Eva Mendes

Square
A square face is characterised by a strong jaw line, broad forehead, and a wide chin and cheekbones. The forehead, cheekbones and jawline are typically almost the same width. Try to find a frame that makes your face look longer and softens hard angles.
Choose frames with a gentle curve to soften angles. Wider frames with a shorter depth will also help to lengthen the face. If possible, select frames that are thicker at the top to draw attention away from the jawline. Don't choose frames that are flat at the bottom as this mirrors the face shape too much.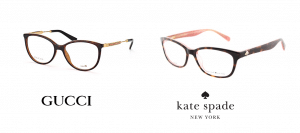 Who has it: Paris Hilton, Demi Lovato, Jennifer Aniston
Round
Round faces are all about curves. With gorgeous fuller cheeks, a wide forehead, and a rounded chin, this face shape is similar in width and length.  You'll probably want to add more definition with to your face to make it appear longer and thinner.
Choose angular frames to narrow out your face. Frames with adjustable nose pads will help keep lenses from resting on the fuller cheeks. Frames that have a slight cat eye at the corners will also show off those gorgeous cheeks and bring the eyes into focus. Don't choose excessively rounded or square styles, as this will exaggerate facial roundness.
Who has it: Chrissy Teigan, Mila Kunis, Selena Gomez
Heart
Heart-shaped faces are characterised by a wide forehead, high cheekbones, narrow jaw line, and small chin. The trick is to find a frame that balances the varying widths of the face, not mimic it.
Choose bottom –heavy frames to add width to the lower face, or rimless frames that will let your natural face shape shine. Don't  choose styles that are wider at the top, like semi-rimmed glasses, as this will emphasise the wider part of your face.
Who has it: Reese Witherspoon, Ruby Rose, Miranda Kerr

Oblong
The oblong face is longer, and has a long straight cheek line. Look for a frame that adds width and softens the jaw line.
Choose frames that have round, deep or low-triangle shapes. Frames with strong horizontal lines will make the face appear shorter and wider. Decorative, contrasting temples can also add width to the face. Frames with a lower bridge will also create the illusion of a shorter face.

Who has it: Sarah Jessica Parker, Sandra Bullock, Kate Winslet